TUESDAY July 17 Happy Hour Improv Show FREE TICKETS
Join us for a fun after work Improv Comedy Show. We have presented this show for 100s of teams from New York and beyond. The cast of EIGHT IS NEVER ENOUGH create original Improvised Comedy based on audience suggestions and participation. Since 2002 over 6000 show sin Times Square and touring nationwide! July 24 already sold out to a private group. With enough notice we can shut down for a private show as well.  Tickets to July 17 & 31 7pm Shows are currently available for public sale. Bring your team early for a private workshop and catered happy hour menu (Drinks, finger foods etc). $25 at the door and the troupe's main site. FREE TICKETS available to you via form below.
TUESDAY July 17 Happy Hour Improv Show FREE TICKETS
Tuesdays 6:30 Bar opens for Happy Hour
7pm Interactive Improv Comedy with guest Comics
Broadway Comedy Club, 318 West 53rd Street, NY NY 10019
TICKETS $25 at the door
FREE when you register via form /links below
There is a two drink minimum per guest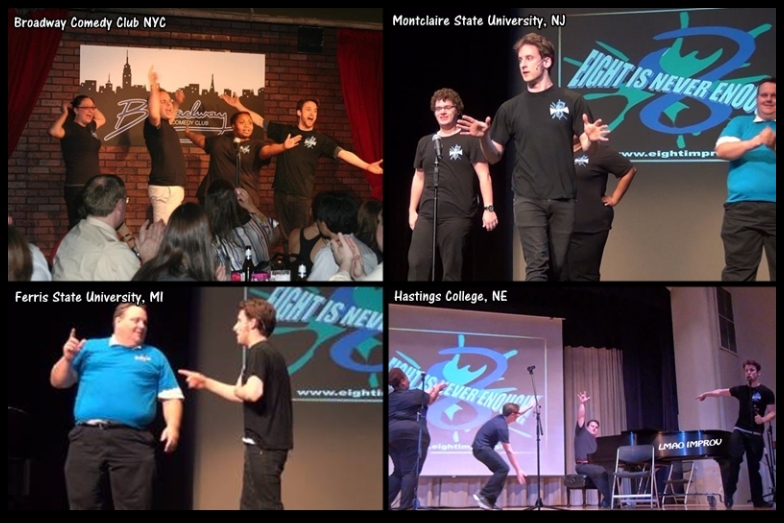 July 17 Line-Up
The New York team is home based at the Broadway Comedy Club, 318 West 53rd Street (Close to Times Square and Columbus Circle Subways) and offers a variety of options for shows, workshops and catering. This team currently services events in Washington DC, Baltimore, Philadelphia, Boston MA and as far east as Pittsburgh PA on a regular basis. In the past 15 years, clients include teams from JP Morgan Chase, IBM, Morgan Stanley, Johnson & Johnson, Bloomberg, Master Card, American Express, NYC Schools (DOE VENDOR), Microsoft/BING, Twitter, Louis Vuitton, Coach, Home Depot, Enrst & Young, GM, KRAFT, UBS, UNILEAVER and 100s more smaller/local firms.
Actor/Comic Walt Frasier made his TV debut in sketch comedy, appearing in multiple episodes of Late Nite with David Letterman (As Tiger Woods / Lance Armstrong , Horse Jockey, Heckler and more), MTV2's STANKERVISION with Yukko the Clown, most recently on TruTV's Friends of the People, appearing in a scene with "Lil Rel" Howery (TUBER SKETCH). Frasier's TV career also includes filming a scene for "Royal Pains" (Choking Victim Saved by Dr. Hank) in San Juan, Puerto Rico, Lilyhammer (American Comic at Stevie Van Zandt's Club Flamingo) in Oslo, Norway and numerous NYC sound stages for Dr OZ and other commercials. In the past 25 years Frasier has appeared on stages, colleges and events all over America, a few in Canada, and a brief opera thing in Italy in the 90s, but we don't talk about that anymore, unless drinking red wine. In 2009 The Comedy Hall of Fame named Walt Frasier the Director of Instruction.
Amelia Fowler, a native of Brooklyn, New York, can  be seen in the upcoming motion pictures "Top Five", starring Chris Rock and "Learning to Drive" starring, Sir Ben Kingsley as well as "Monica Z", directed by Per Fly as Ella Fitzgerald and "Orange is the New Black", directed by Jodie Foster.  Amelia has been seen in commercial spots for Cablevision, the History Channel, IFC, as well as comedy venues throughout the U.S. with her fellow cast mates of the improv troupes "Comedy Sportz – New York City" and "Eight is Never Enough." Amelia has also had the good fortune to perform in the GLAAD award winning "She Like Girls" at the Ohio Theater as Regina and her one woman show "Flozetta" performed at HERE as part of the "Downtown Urban Theater Festival" and the movie . Amelia currently serves as Client Relations Manager for EIGHT IS NEVER ENOUGH so if you are booking a private event or outreach program, expect a friendly call. Visit her website at AmeliaFowler.com

Samuel Van Wyk is an actor/improvisor based in New York City. As an improvisor, Samuel has performed for thousands of students and adults. He has also lead Improvisational workshops for all ages from kindergarten students to senior executives and everything in between. Samuel has lead workshops on the benefit of improv in a business setting for professionals in the education and medical field as well as corporate clients like IBM, Bing, and JP Morgan. As an actor, Samuel works in TV, Film, and Theatre. Samuel has appeared in such TV shows as Evil Talks, Diabolical, and Mysteries at the Museum. Favorite stage roles include Malcolm (The Full Monty), Hal (Proof), and Snoopy (You're a Good Man, Charlie Brown!).
Ivana Méndez was born on March 12, 1993 in San Juan, Puerto Rico. She is an actress, known for Casi Casi (2006), StartUp (Two Seasons as Marty Freeman's Daughter – 2016) and The 100% Perfect Girl (2015).
Thomas Burns Scully was born in North Wales, where he spent the first few years of his life, but was predominantly raised in the Sultanate of Oman, where his family moved at a young age. He studied at 'ABA, An IB World School' in Muscat and became a stalwart of the school stage in his teens. He began working as a voiceover actor with the Oman Ministry of Education at a young age, and has continued working as a voice actor since. Thomas was accepted to the American Academy of Dramatic Arts in New York, where he spent two years learning the craft of professional acting. His classes included Masterclasses with Tony Winner and Oscar Nominee Frank Langella. On exiting the Academy, he was awarded the Max Fischer Award for Outstanding Growth as an Actor. He is now a working New York stage and screen actor, and regular improvisor at family favorite improv comedy show 'Eight is Never Enough', and the critically-acclaimed 'On The Spot' improv team. His work has included the New York Times critically-acclaimed 'A Girl Without Wings', Time Out Critics' Pick 'BritBits 8', the BAFTA nominated short 'The Boy Under the Piano' and countless more projects for professional and commercial gain.